Spoken Languages
Dutch (60%) / French (40%)
Largest City
Brussels (2.1 million)
Largest Border
France (556km)
Snugly seated within the heart of Western Europe and embraced by Germany, France, Holland, Luxembourg and bordering the North Sea, the Kingdom of Belgium proudly boasts its sovereign status by offering its visitors a Royal welcome. Despite Belgium's relatively compact size, this deeply historic multicultural nation more than makes up for it by boasting a host of intriguing and fascinating cities and towns in close proximity, and each with their own individual and often contrasting appeal and charm. A visit to Belgium may perhaps also tempt you to pop across its borders to indulge in a little France, Germany or other surrounding nations, but you'll most likely discover that this beautiful and compact country has more than sufficient charm and intrigue to invite you to stay within its beguiling borders.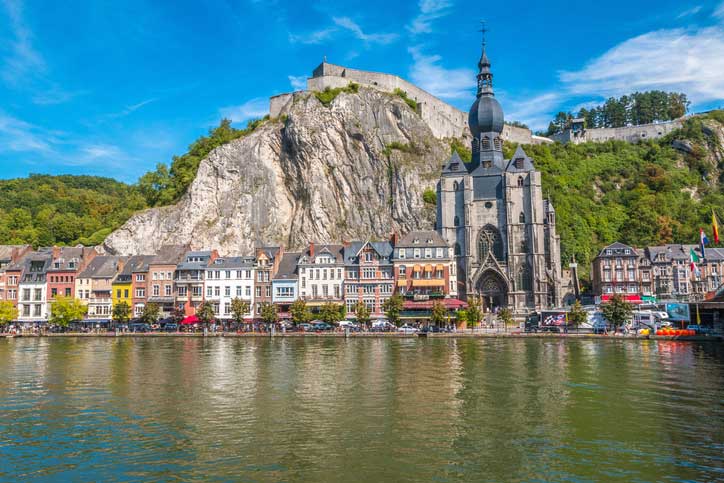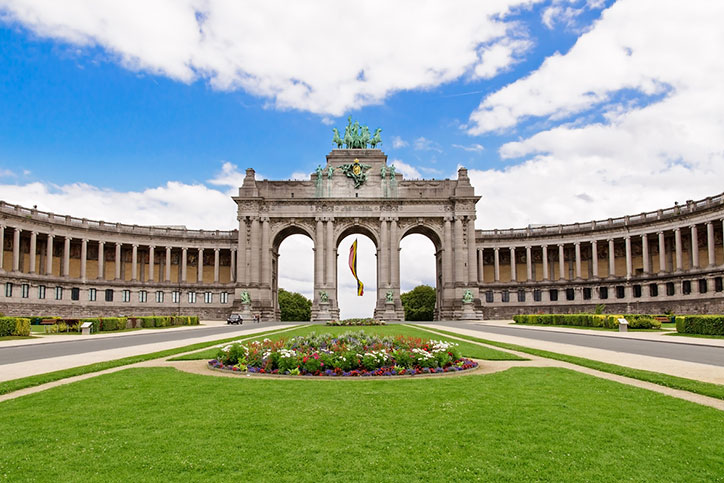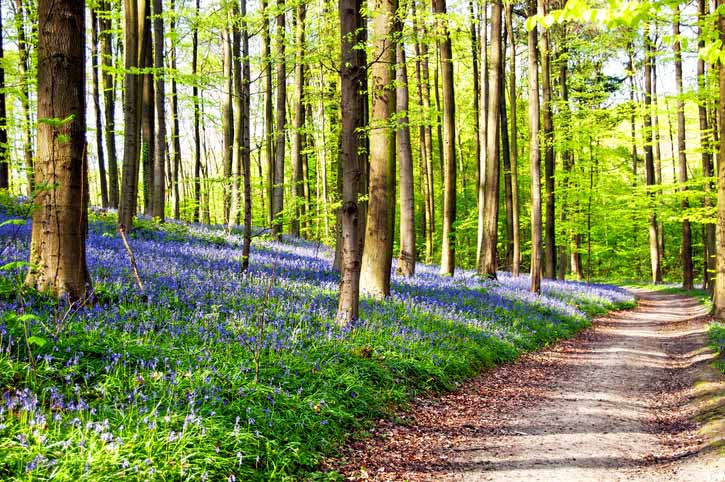 The Hallerbos/Blue Forest
One of the most eye-catching landscape views in Belgium is a dense forest region located between Zenne and Zoniën and is affectionately known as the Blue Forest or 'Hallerbos'. It's colorful name comes from the fact that the entire area of 1,364 acres is carpeted in the rich blue violet shades of bluebell beauty, particularly in April and May.
The Hallerbos is a springtime sanctuary for the brightly colored bluebell petals which thrive in massed abundance exploding over every square inch of this enchanted forest turning its surfaces a vivid signature shade of azure beauty.
And interspersed randomly amidst the bluebell carpet stand giant Sequoia trees, many having grown there for several centuries.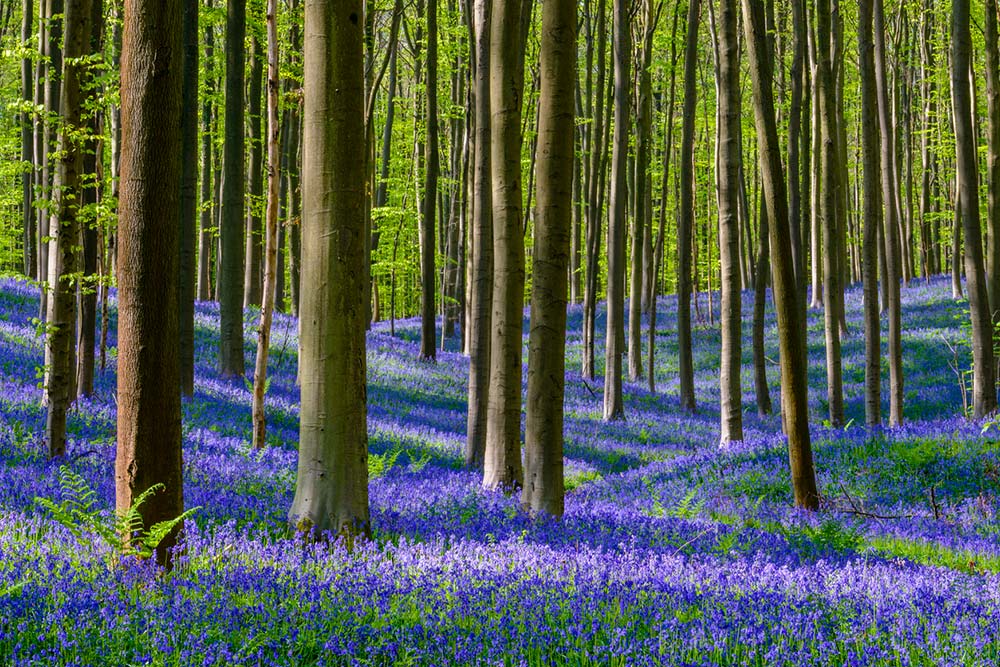 Belgium has become popularly regarded as a mecca for beer enthusiasts if not indeed a beer lover's paradise! The nation is teeming with independent and amalgamated breweries offering a wide range of fine real ales and lagers designed to delight and tempt every palate.
By joining an enticing Belgium Beer Tour accompanied by a local guide you get the opportunity to visit some of the nation's finest breweries where you not only witness the age old techniques of traditional beer brewing from barley to the barrel, but best of all you get to sample the delights of three different beers whilst enjoying a delicious Belgian snack.
A decidedly darker side of Belgian medieval history casts its forlorn shadows over the ancient city of Ghent standing as the fearsome Gravensteen. Dating back to 1180, this imposing castle, once the residence of the Counts of Flanders until 1353 has been repurposed on several occasions.
As a dreaded prison with its subterranean dungeons it was once regarded as an intimidating house of barbaric torture, inquisition and injustice, and was almost demolished because of its history of atrocities.
The castle of Gravensteen has since been employed as a city courthouse comprising several elaborate chambers, the city of Ghent's mint and financial depository, and even as an industrialized cotton factory.
Other Great Things to See and Do
---
The mystical Caves of Remouchamps form naturally sculptured caverns that embrace the longest concealed river in the world, the Rubicon.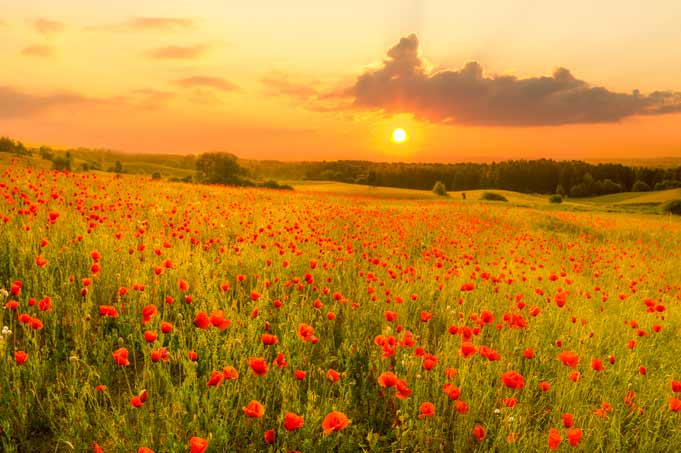 A beautiful poppy-carpeted meadow which witnessed some of the fiercest trench warfare, and today stands in honor as a natural memorial.
Built in 1180, the Gravensteen was a prison with dungeons once regarded as an intimidating house of barbaric torture and was almost demolished.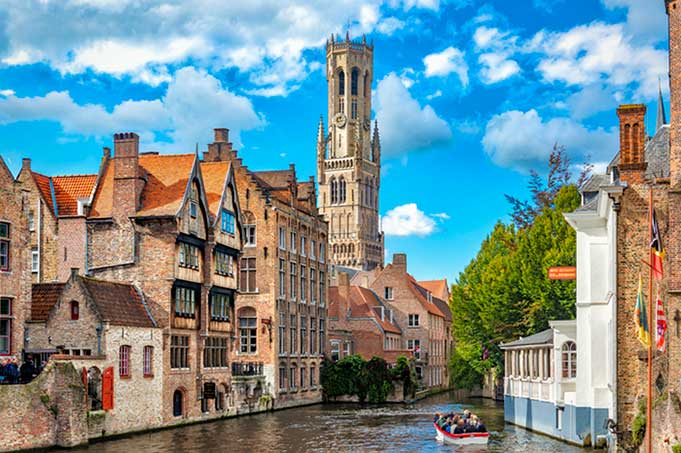 Standing 272 feet high, the Bruges Belfry, a world heritage protected building, hosts a melodious 47 bell carillon of bells and adorned by elaborately decorated clock faces.
Established in 1146 and taking 70 years to complete, explore the practically ruined yet still standing remains of the Cistercian abbey known as Abbaye de Villers.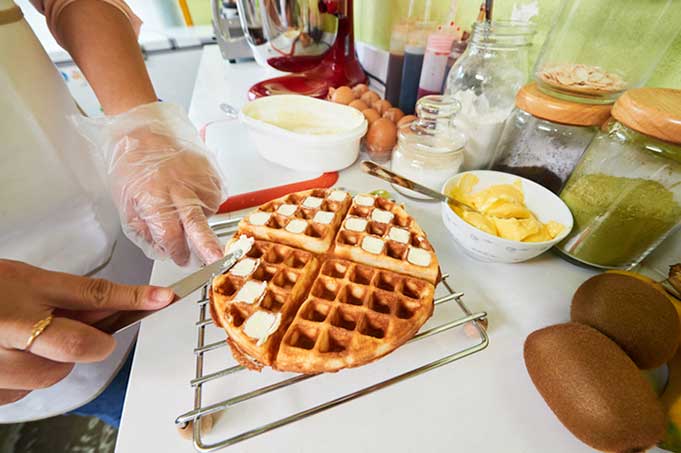 Belgium Waffle Making Shop
Imagine, all you can eat delicious Belgian waffles, enjoyed in the very capital city which introduced them to the world, Brussels, and created by your very own hands!