Scotland
Sights, Sounds, and Rich Heritage.
Spoken Language
English (99.0%)
Largest City
Glasgow (590,000)
Largest Border
England (154km)
Awake to the captivating tones of a bagpiper heralding the morn from atop the misty rolling carpeted hills. Bonnie Scotland beckons your senses with all the colors of tartan intertwined with the sights, sounds, and rich heritage that occupy one third of Great Britain. Having three major cities, Edinburgh boasts being Scotland's capital, and Glasgow and Aberdeen are bursting with historical and cultural significance! Don't miss Edinburgh Castle, St. Andrew's Church, world-famous golf links, Hadrian's Wall, the Falkirk Wheel, Glasgow University, and a teeming host of beguiling islands to visit by ferry. So bravely don your kilt and sporran, tuck into a haggis, raise your glass of Scotland's finest malt whisky, and have your camera ready as you stand on the shoreline of Loch Ness – you could be the first to snap a shot of 'Nessie', the famed Loch Ness Monster!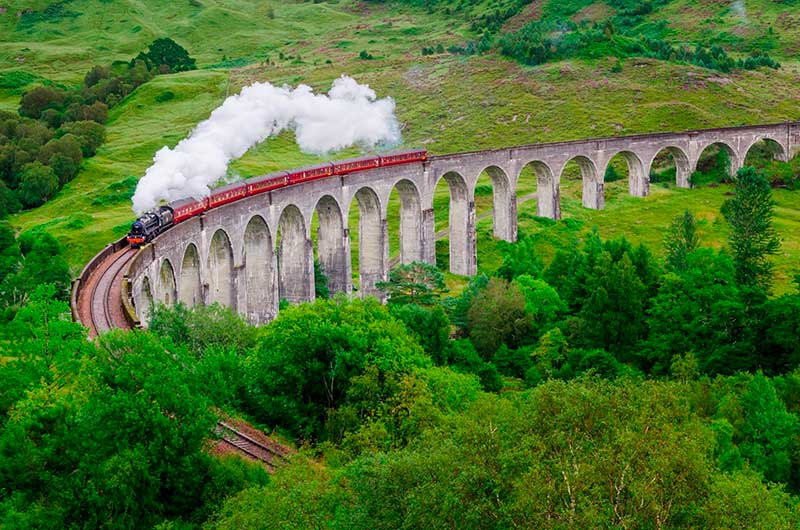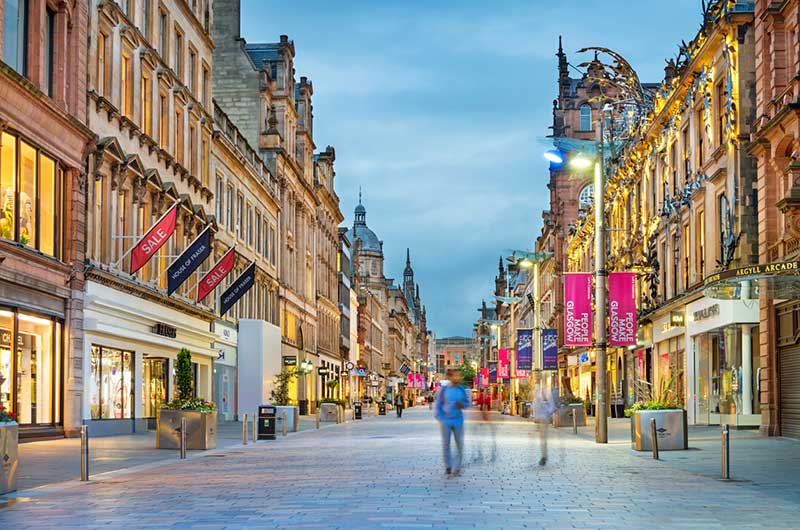 Acknowledged as the greatest railway journey in the world, the 84 mile long Jacobite Steam Train tour threads you not only back through historical transportation times, but also through a myriad of impressive Scottish scenery extremities. Starting at the foot of Britain's highest mountain, Ben Nevis, your glorious six hour excursion sees you steaming across the impressively long and lofty Glenfinnan Viaduct where Harry Potter scenes were filmed, passing close to the deepest freshwater loch in Britain, Loch Morar, contrasted by Britain's shortest river, River Morar. Thundering through vales lined with Scotland's signature thistles your Jacobite Steam Train excursion concludes next to the deepest seawater lock in Europe, Loch Nevis by the town of Mallaig.
Edinburgh, Scotland's historic capital city is the proud home and center of The Royal Edinburgh Military Tattoo, an annual series of military tattoos performed by British Armed Forces, Commonwealth and international military bands, and artistic performance teams. This most prestigious entry in Scotland's calendar is centered in and around the esplanade of the magnificent hilltop Edinburgh Castle and takes place each August as part of the annual Edinburgh Festival.
If you love the sound of bagpipes, The Royal Edinburgh Military Tattoo features Massed Pipes and Drums, the Bands of Her Majesty's Royal Marines, and the lone piper playing his haunting melody high above the castle parapets.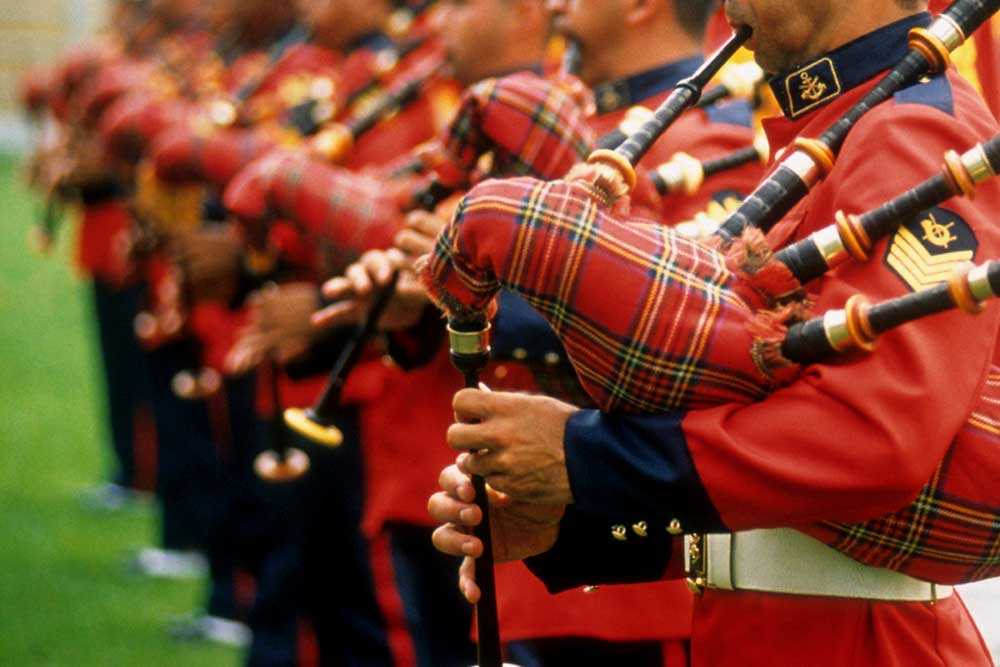 Orkney – See a 5,000 Year Old Village
A remote archipelago off the northeastern coastline of Scotland draws many parallels to the ancient civilization of Pompeii in Italy, in the sense that both have been revealed after having risen from the ashes, or more accurately in the case of Skara Brae on Orkney, rising out of the sand!
This well preserved hidden village was literally 'blown' back into existence following a heavy windstorm in 1850. A reconstructed 5,000 year old house, along with an authentic chambered burial tomb incorporating 12th century Viking carvings called a "Maeshowe" can now be visited at Skara Brae, the rediscovered village set in the heart of the Neolithic Orkney islands.
Other Great Things to See and Do
---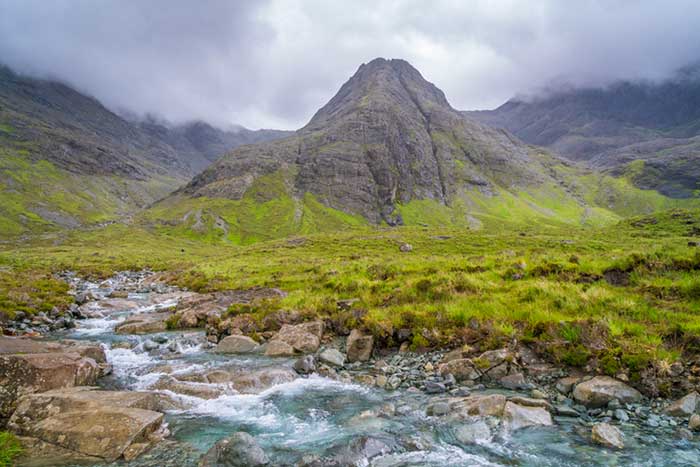 Isle of Skye – Swim in Fairy Pools
These vibrant turquoise and emerald tinted pools embraced by cascading waterfalls are found exclusively at the foot of the Black Cuillins, close to Glenbrittle on the River Brittle.
Angus Coast – Pink Sand Beaches
Lunan Bay is the home of Scotland's very own 'blushing beach'! The beach's pretty pink sands often sparkle mystically in the sunshine revealing "Scotch Pebbles".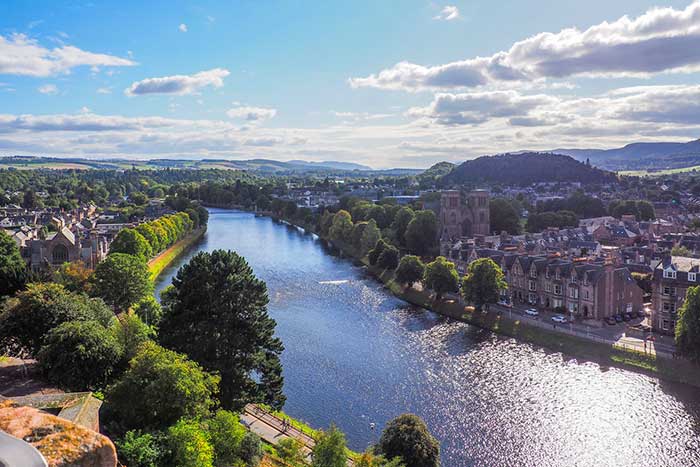 Now's your opportunity to find out for yourself if "Nessie" really does exist by taking a guided tour of Loch Ness, taking in all of its surrounding highland beauty and history.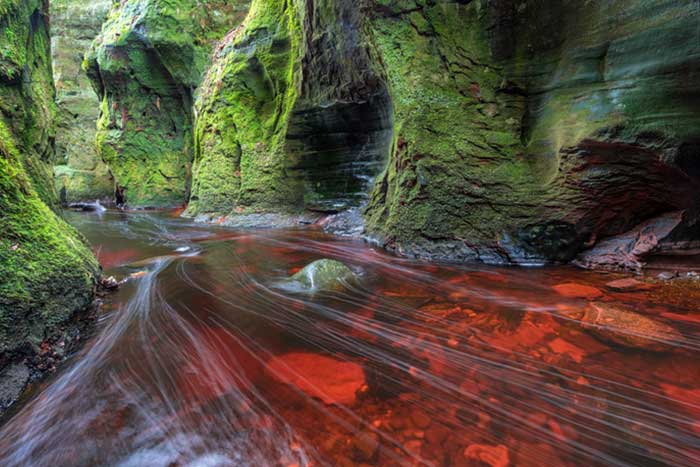 There's a crimson tide flowing through the heart of Scotland! It runs through a bright green moss coated gorge carved out of vivid red sandstone by the Carnock Burn, and is known as Finnich Glen.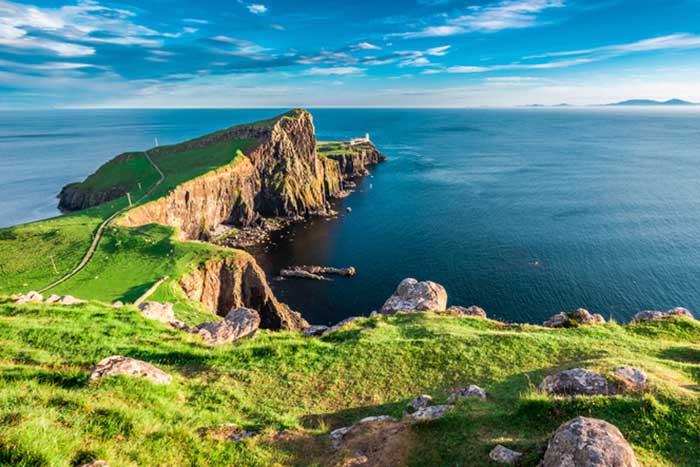 Besides meeting local ponies, the Shetland Islands form a perfect viewing platform to marvel at the mystical Northern Lights in the winter months, located above the northern tip of Scotland.
Visit to Whisky Distilleries
Amongst the many renowned aspects of Scotland, one feature stands out distinctly - the distillation of some of the world's finest whisky, which has been a Scottish staple for many centuries.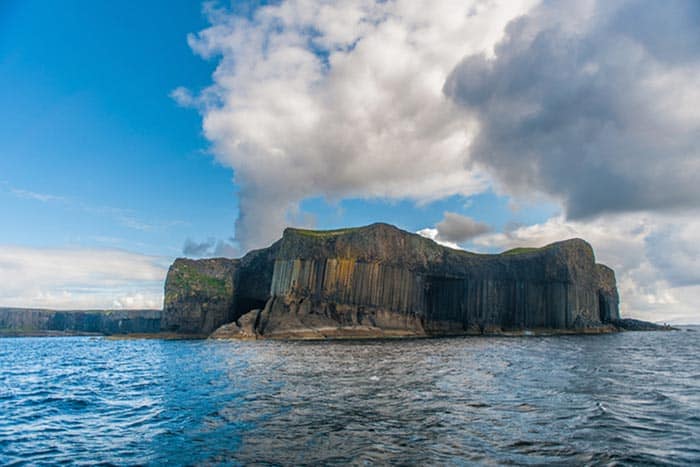 Isle of Staffa and Fingal's Cave
Fingal's Cave is a natural wonder, displaying a remarkably uniform and symmetrical arena who's acoustic properties have been described as perfection by many renowned music and sound engineers.
Looking not unlike the ancient site of England's Stonehenge, the mysterious Callanish Stones found in the Outer Hebrides of Scotland date back to the Bronze Age, between 2,900 and 2,600 BC.
Featuring contemporary art, sculpture, creative culture and learning, a wide expanse of land is required to accommodate this foundation's vast array of artworks, classes, workshops and events.