Ireland
A Small Country With a Big Heart
Spoken Language
English (99.0%)
Largest City
Dublin (1.2 million)
Largest Border
United Kingdom (490 km)
Where you will meet the friendliest people, otherwise known as the "Emerald Isle", this shimmering green jewel awaits you. Feel right at home in the slower, more relaxing pace of one of the world's friendliest and most magical countries. Sip the authentic taste of Ireland's 'black gold', Guinness, as you join in with the song and merriment of Dublin's countless pubs and taverns brimming with local musicians sharing their own special Gaelic tales in tunes and verse. Ireland is your passport from the Atlantic Ocean to the Irish Sea towards England. Once you have tasted peat-caressed Irish stew, pinned a native shamrock to your lapel for good luck, felt the warmth of Aran knitwear on your shoulders, and be kissed by The Blarney, you will truly be the 'green envy' of all you know!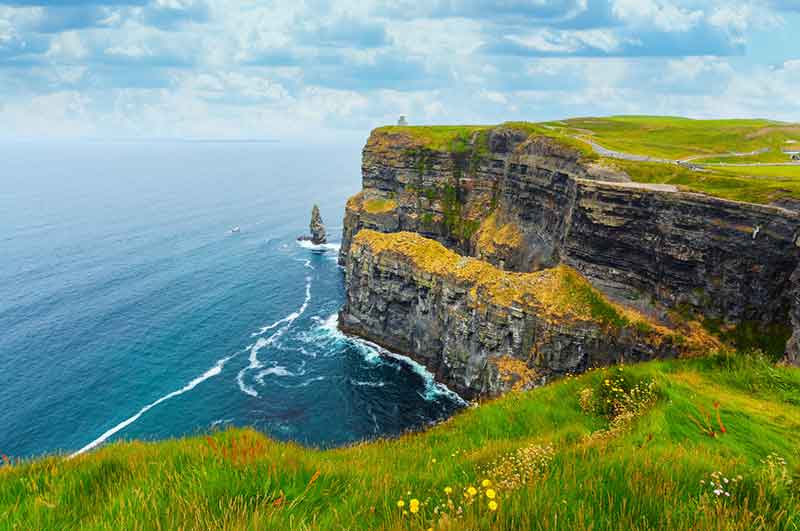 Peppered all across the lush greenery of the emerald isle you'll discover a wealth of centuries old Gaelic castles, many of which are rolling out their red carpets with an invitation for you to stay as a special guest within their historic walls.
Ashford Castle, an imposing 800 year old stone citadel welcomes you to its regal ambience with exquisite interiors, sumptuous dining, 350 acres of ancient woodland and a state-of-the-art spa with top of the range treatments.
As does majestic Dromoland Castle, a stately 15th century lakeside castle hotel boasting Irish Royalty lineage and resplendent in lavish decorations, monumental fireplaces, haute cuisine and manicured gardens.
And both destinations offer training courses in Ireland's time honored sport of falconry.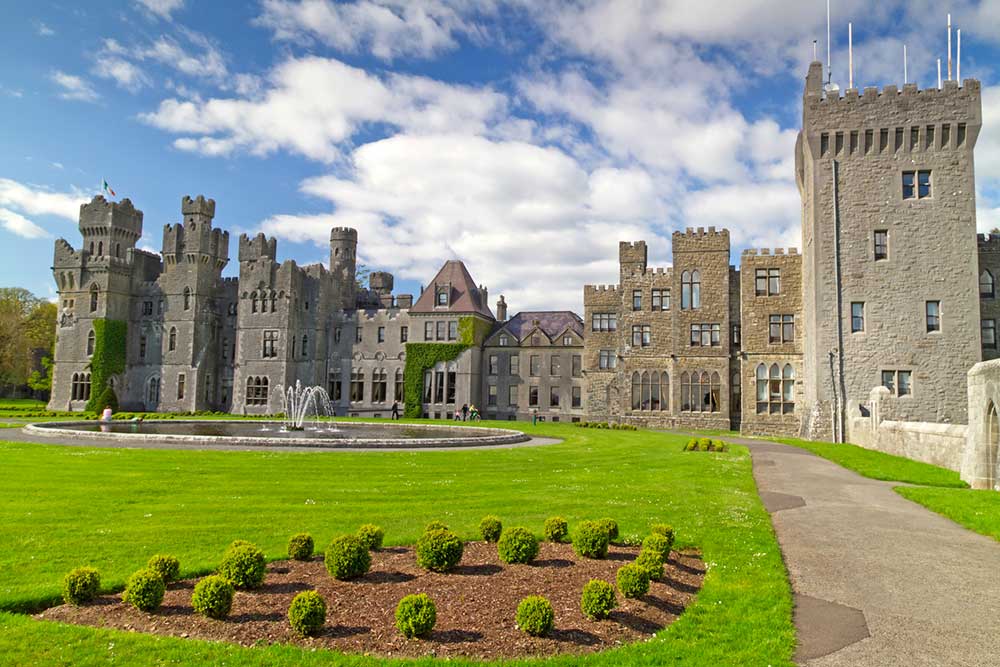 Jameson Midleton Distillery
Distinguishable by having the letter 'e' in its name, whiskey is one of Ireland's most prized and sought after exports, and the name Jameson is synonymous with exceptional quality aged single malt Irish whiskey.
The original Jameson distillery was established in Dublin over 200 years ago, and today there are two facilities, the second being located in the town of Midleton in County Cork. This newer distillery opens its doors for you to tour its facility to discover how their fine amber elixir is crafted and aged in oak barrels. Best of all you're encouraged to sample their proud product during this fascinating tour.
The once monastery populated heritage town of Killarney dates as far back as the year 610 AD, and as such is one of Irelands earliest and most significant of its original ancient religious settlements.
As a major section of Ireland's famous Ring Of Kerry trail, Killarney is home to an abundance of natural treasures which include the surrounding peaks of Crohane, Tomies, Torc, and Mangerton towering over Killarney's exceptionally picturesque National Parklands.
Tour the highly esteemed Muckross Estate, Ross Castle and Innisfallen Monastery in traditional Irish fashion aboard a horse-drawn carriage known locally as a 'jaunting cart' skillfully guided by a knowledgeable local driver known as a 'jarvey'.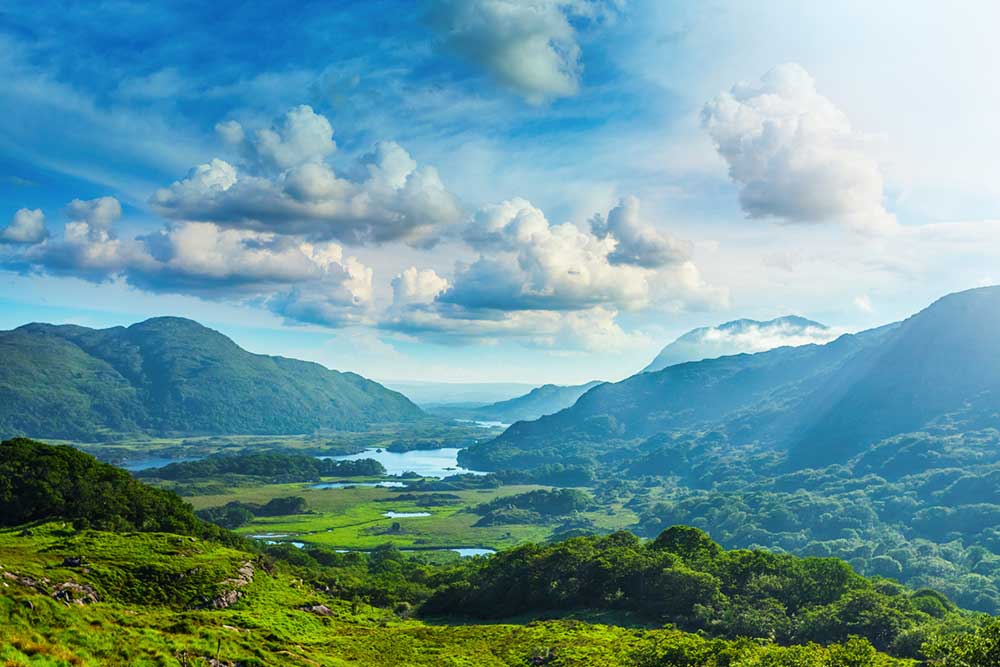 Other Great Things to See and Do
---
Stunning vistas of crashing Atlantic waves to soaring cliffs divided by waterfall cascades greet you from every angle as you tour the Iveragh Peninsula.
Venture along O'Connell Street and beside the banks of Dublin's River Liffey for a pint at the city's oldest pub, The Brazen Head before moving along to more fine Dublin pubs that you can possibly handle!
Cliffs of Moher with a Guide
Ireland's most visited natural tourist attraction, the grandiose Cliffs of Moher cast their shadows over rushing waves stretching along the southwestern coastline for approximately 10 miles.
Dingle Peninsula with a Guide
This peninsula is named after its town of Dingle, notable for its narrow winding streets crammed with colorful cottages, friendly pubs, and gift shops all hinted with an authentic Gaelic flavor.
One of Europe's largest unoccupied jails can be found in Kilmainham, an area of Dublin which has been converted into a Government owned and museum and visitor center.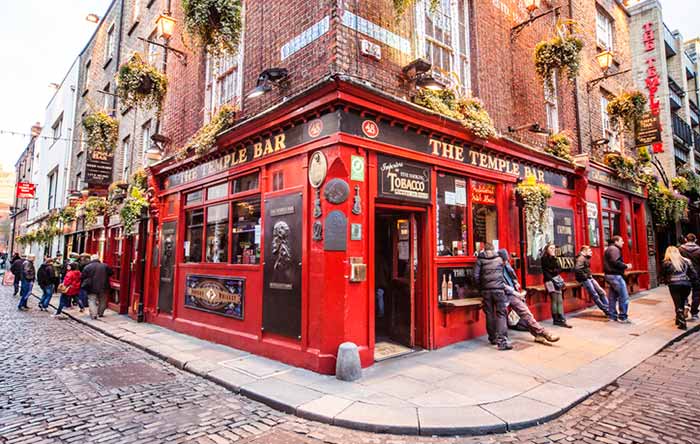 Among its plethora of historic buildings, churches, monuments and ancient Gaelic artifacts, Trinity College invites you to tour its extensive facility where you can actually see the Book of Kells.
Hear about how Guinness was invented and other fascinating stories from the present day Arthur Guinness by touring the Guinness Storehouse and tasting this unique brew at its very source.
Adare's ancient origins are clearly characterized by many of the town's centuries old buildings being topped with traditional 'thatched roofs', intricately woven out of dried straw.
Fiddles, banjos, tin whistles, bagpipes, guitars, and the percussive Irish hand drum, the bodhran, join together to form lively groups always eager to break into song at the drop of a hat!